Top 10 Best Portable and Camping Toilet in 2018 Reviews
The importance of having a portable outdoor toilet when camping cannot be overstated because while camping is a fun activity, no one wants to have to relieve themselves out in the woods. Everyone wants to relieve themselves in a familiar environment b ut with there being many portable toilets to choose from, picking the right toilet for your camping trip can be a difficult task. We selected ten of the best portable toilets and reviewed them to help you narrow down the best portable and camping toilets.
10. Camco 41541 Portable Toilet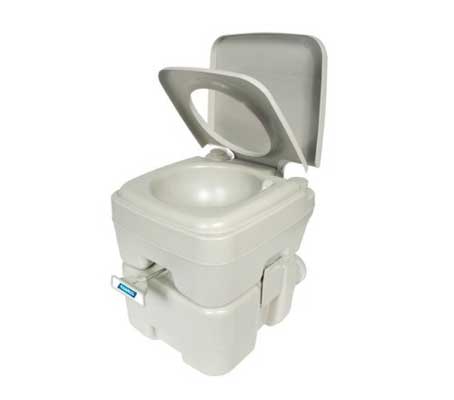 Camco 41541 is a portable toilet made from plastic and is perfect for outdoor events such as camping. The brand Camco provides two capacity options for this particular model of toilet. One has a large 5.3-gallon holding tank while the other option has a much smaller 2.6-gallon holding tank. While both holding tanks in the two variants are detachable, we still think that the 5.3-gallon toilet provides better value for money and is more practical.
9. Best Choice Products Outdoor Portable Toilet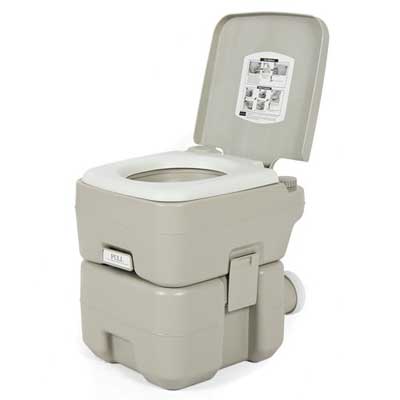 Just like the Camco above, this Best Choice toilet also comes with a 5-gallon holding tank is detachable for disposal and disinfecting purposes. As for the build quality, the toilet feels robust despite having a mostly plastic build. The plastic is finished in a clean, friendly coat that makes it easy to maintain the toilet's hygiene. The side latches fitted on this Best Choice toilet secure it in place preventing awkward movements unlike in other portable toilets.
8. PARTYSAVING Portable Toilet Potty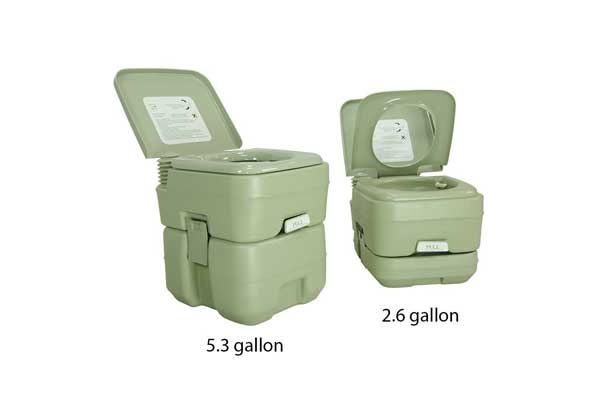 Both camp lovers and hike lovers will be glad to learn that the Partysaving toilet comes in two sizes; a large 5.4-gallon toilet for adults and a 2.6-gallon toilet for kids. The high-density polyethylene material used to structure the toilets can withstand a maximum weight of up to 250lbs meaning just about anyone can use them safely. A clean water tank that is refillable is fitted into the toilet to ensure maximum hygiene when in use.
7. Dometic 301097606 Portable Toilet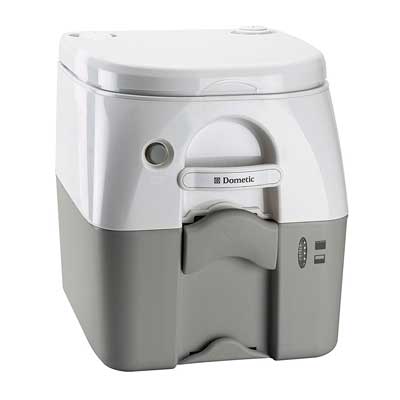 The Domestic is a sleek-styled 5-gallon capacity toilet made from high-density polyethylene for maximum strength and durability. When it comes to finish and texture, the domestic's matte finish provides ease of cleaning and scratch resistance to keep it looking sparkly at all times. What's more, the Domestic toilet features a prismatic tank level indicator that displays when collection tank is at full capacity and needs emptying.
6. Reliance Products Hassock Portable Toilet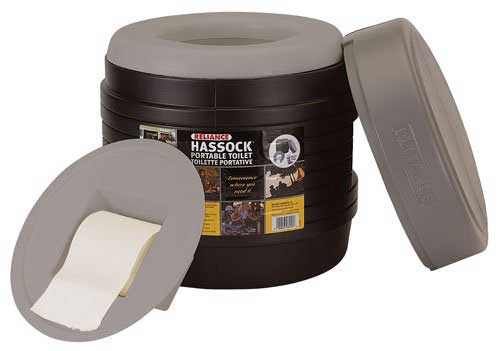 Since portable toilets are meant for use while on the go, their weight and self-sufficiency are vital factors to consider when buying them. Weighing at only 5lbs, it so happens that the Reliance Products Hassock is one of the most lightweight toilets available today. Also, when it comes to self-sufficiency, this lightweight toilet comes self-contained with a removable waste bucket and a toilet paper holder fitted into it. The Reliance Products Hassock other features include an adult sized contoured seat and an eco-fresh packet.
5. Reliance Products Hunter's Loo Portable Camouflage Toilet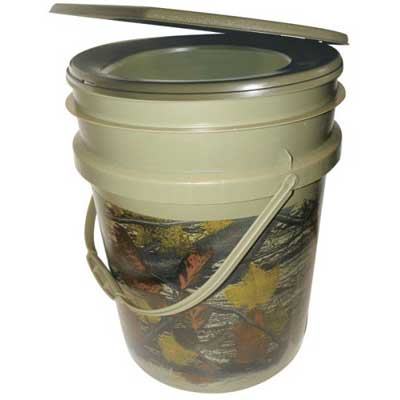 It would be criminal to mention the Reliance Products Hunter's Loo camouflage toilet and fail to mention its unconventional design. For starters, this portable toilet looks like it was put together by two very basic pieces in the form of a toilet seat and a bucket that has been finished in camouflage colors. The two upsides to the bucket style design are that this camouflage toilets eats less space than other models and is super light making it one of the most convenient toilets for travel. What's more, cleaning is also super easy.
4. Five Oceans Portable Toilet Potty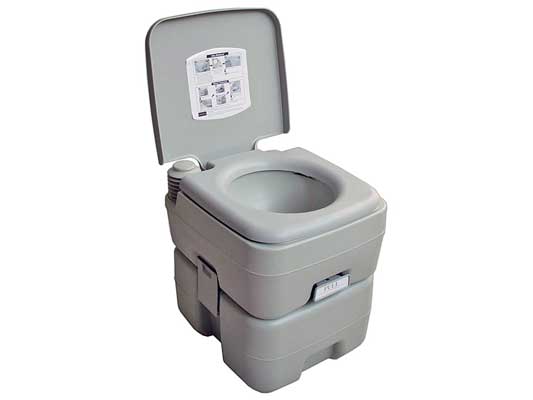 The Five Oceans looks like your typical portable toilet with a high-density polyethylene build finished with a cle an, friendly surface and a detachable waste container attached at the base of the toilet by highly effective latches fitted on both sides of the toilet. This is a good thing since that design language has been proven to work so well for portable toilets. The Five Oceans robust build can support weights of up to 440lbs making it one of the best in its class.
3. Giantex Portable Toilet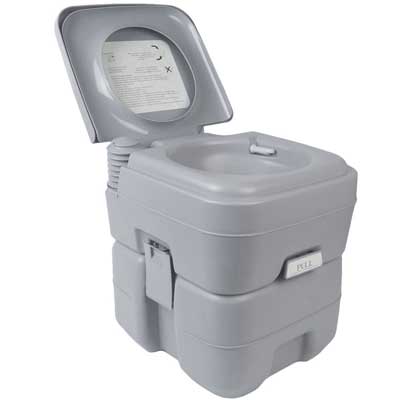 The Giantex is a fully self-contained toilet that does not require any power or water connections to function. When it comes to operation, the only word that comes to mind is straightforwardness. Its use is intuitive; you don't need a manual or a handbook to operate. You simply fill the clean water tank with water then use the toilet normally after pulling out the slide valve. After use, simply press the bellows pump once or a couple of times to rinse out the bowl and then close the slide valve till next use.
2. Stansport Portable Camp Toilet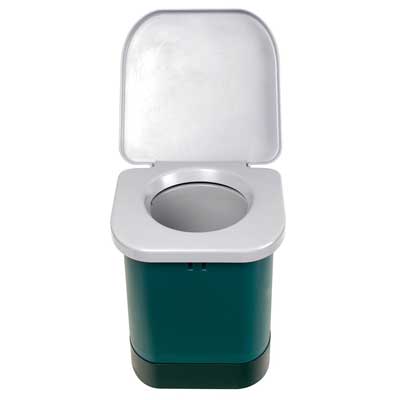 The Stansport is an ideal portable toilet for camping. This toilet is popular for its comfort thanks to its full sized seat. The 350lbs maximum holding weight capacity of the Stansport goes on to show the robust nature of its build materials. When it comes to features, this portable toilet has a lot going for it. This portable toilet comes equipped with handles that allow the campers to carry it with maximum ease and comfort.
1. Reliance Fold45; To45; Go Portable Toilet

Our pick for the best portable toilet had to be special to get the top spot, and the Reliance Fold45 fits that bill perfectly. Design wise; it is not like the other portable toilets with detachable waste containers like the ones we have featured in this review. This Fold45 is more of a toilet seat attached to a robust three-legged stand. The simplistic design on this Fold45 makes it the most convenient portable toilet since it weighs next to nothing and its folding nature ensures the toilet takes up little space when stored for traveling. Also, since the Fold45 does not have a waste collecting container, like other toilets, its maintenance is a breeze.
Conclusion
As you have seen from the review above that these portable toilets vary greatly with regards to design, size and even functionality. This variation means that not of all these portable toilets will suit your needs. However, since these are the top ten portable toilets we could find, they are all somewhat at par in terms of quality. Therefore, you won't be disappointed in that regard. All the best and we hope this review helped you find the portable and camping toilet you are looking for.